OFC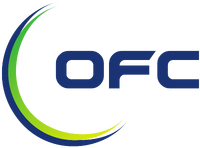 The Oceania Football Confederation (OFC) is one of the six continental confederations of international association football, consisting of New Zealand, Fiji, Tonga, and other Pacific Island countries. It promotes the game in Oceania and allows the member nations to qualify for the FIFA World Cup.
OFC is predominantly made up of island nations where association football is not the most popular sport. Consequently, the OFC has little influence in the wider football world,[citation needed] either in terms of international competition or as a source of players for high-profile club competitions. In 2006, the OFC's largest and most successful nation, Australia, left to join the Asian Football Confederation, leaving New Zealand as the largest federation within the OFC.
David Chung is the current President of OFC. Rajesh Patel is the Senior Vice President, Lee Harmon is the Vice-President while Tai Nicholas is the General Secretary.