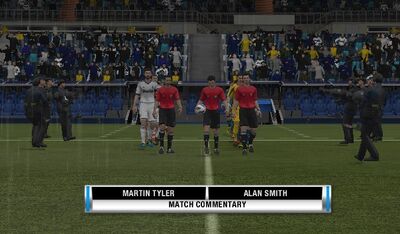 Martin Tyler[1] is one of the English commentators who appeared in FIFA. He co-commentates with Alan Smith since FIFA 12. In FIFA 11 he has commentated with Andy Gray.
Quotes
List of quotes by Martin Tyler (and some by Alan Smith)
"Hi there, I'm Martin Tyler and it's time for the Barclays Premier League action for you."
"La Liga is the competition that are featuring in our match today, I'm Martin Tyler, hello to you all, Alan Smith is with me."
"And he goes for goal!"
"They have to called him Mr Hundred Percent, every shot is resulted in a goal."
"Ohh, it's hit the post here!"
"Manchester United, are really at their best in this first half."
"There is he's, always wanted to takes players on."
"Long range effort, very long range."
"Can he turn away from the challenge here?"
"Good block."
"Brave defending by the player"
"Fist away by the goalkeeper!"
"Hattrick! Goal number 3 here, and it's a perfect day for the player!"
"It's a hattrick today! It's a day he will never forget!"
"It's a hattrick! He really is on top of his form, and on top of the opposition!"
"This is one of the best finishers in the game."
"No doubt about this fella technique, he's the real master of the pass."
"Very skillful when he's on the ball"
"He has been playing absolutely on top of his game today."
"And today is Real Madrid against Barcelona, what we got here is two real rivals and that could bring the best out of the two teams."
"This is as you all know, a local derby."
"Here's the cross"
"Goal! Fantastic header!"
"You gotta be sorry for the goalkeeper there because I think that was a decent save, and when he needed help from his defenders, he didn't get it." (Alan's comment)
"Oh! Stop the shot, bravely."
"Defender are worry about Cristiano Ronaldo."
"Here's the chance!"
"There he is, that fox in that box!"
"Good pass."
"Excellent interception under some pressure I must say."
"Superbly done!"
"The cliché now about Manchester City, is they are noisy neighbors, noisy, because, for a long time they have been in the same city, Cito has the resources these days."
"One of the most one-sided games that I've ever seen!"
"Well, with that goal Alan, it should wrap it up for Barcelona." -Alan: "I would have thought so, surely no way back now!"
"Lunging it, slide tackle!"
"And it's a penalty!"
"And he shoots!"
"If it wasn't bad enough to concede, but to an own goal!"
"Look at the space he's got!"
"He's in behind them!"
"And the flag has went up for an offside"
"Ball's free!"
"And it's broken free!"
"Look at the change of pace there - he's in the clear!"
"A goal!"
"Sliding challenge!"
"No, not this time, and the opposition have come away with the ball"
"And it's broken down straightaway, and all that potential is gone"
"Fantastic slide tackle to get the ball"
"And the ball, knocked away long"
"He's made the save, it's still in play here!"
"More drama, it's still in play!"
"Great work from the keeper, still there!"
"Great opportunity!"
"Well done the goalkeeper but it's still in play!"
"So much room for him now!"
"Goalkeeper makes the save and It's a clean save too - doesn't drop the ball"
"That could gone in - it would be a goal to remember"
"In the clear here"
"It's a very audacious attempt from that far out"
"And some strong defending here, including the clearance"
"And the bulidup and nearly in!"
"Great build-up, nearly in here!"
"Just a bit of bend on that from Robin van Persie, plenty of power, but the goalkeeper was able to a make very decent save" Alan "I'm not sure if we see this late Martin, as a result it was an excellent stop."
"Going for power from long range, and what a shot, what a goal!!"
Oh, maybe that will go as one of Goals of the Season - how far was he, amazing!" (Alan's comment)
"And it's a blockaway by a defender"
"And the goalkeeper not needed, because they've stop the shot!"
"Superb save again!" Alan: "The reactions there, the reflexes, were absolutely top class"
"Penalty, for Arsenal!"
"Oh this is it"
"Ohh, the bar's still shaking!"
"Back out off the bar"
"And it's out of play, off the player"
"He can't miss!"
"Just gonna keep calm!"
"And good anticipation for the interception"
"Anticipation leading to the interception there"
"A good hit Andy, but I'm afraid it was off the radar" (the comment can be also heard in FIFA 12 when Alan was the co-commentator) [also, I think the first part of the quote I write incorrectly]
"Brilliant, backheel, lovely"
"So far the destruction has been self-destruction with that own goal for the losing team" (This is a quote with Smith saying after, but I don't remember Alan's words)
"And the player's putting into his own net under pressure!"
"He's blocked it there"
"And today's referee, Hans de Noteboom."
"Good referee, so the cross can come in!"
"And there it is!!"
"Check on the referee, Jean Rabault"
"And this match is being controlled by Flemming Fredskild."
"It's gone out of play, and it didn't need to"
"Barcelona were founded in 1899 by a group of Spanish, Swiss and Englishmen"
"Excellent save from Victor Valdes!" (only for games where this player was)
"Super stop, Joe Hart!"
"Strong fist by the goalkeeper"
"3-3 on the scoreline!"
"That's a good lead, 3 goals to nil (0)!"
"Now it's 2-0!"
"And the offside very tight, remember level is on-side" Alan "The player running forward and the back line holding still - it was an extremely tight one but got it right now, the far side"
"And they can't get better of Mandanda here!"
"And cleared away by Puyol" - Notes: 1. There are two editions of the quote - first spoken normally, second with 'by Puyol' on a higher pitch. 2. Only heard in games where Puyol was
"And a quick break, he's away!"
"Barcelona has scored here!"
"Now it's only the goalkeeper between him and scoring!"
"Must be!"
"So dangerous!"
"And no time for niceties, went for power" -Alan "Yeah, player maybe not on top of his game decides to just lash it"
"That's marvelous from Mandanda in goal!"
"Handball there"
"Not particulary pretty, but effective from a defender to clear his lines"
"Barcelona awarded the throw here"
"And it's a heading chance now"
"Oh!" (during making a cross)
"And it's in, the header! Great goal!"
"Oh what a thump. Eyes on the ball all the way, but the connection was absolutely perfect" (Alan's comment)
"And here it is!" (during an attack)
"Steve Mandanda makes an easy catch"
"And it's off the post and behind"
"That's a good pass."
"Messi in the clear!"
"Off the post and back into play!"
"And we're concentracing on Barcelona"
"Still danger!"
"That must be very close, flag up though"
"Look at the watch, and that will tell you 6 minutes to go."
"And we have only 7 minutes reimaining now"
"And there's a slide challenge"
"That's a slide challenge"
"Messi takes it forward"
"The goalkeeper's in a hurry for this goal kick, might be their last chance to get the ball forward"
"David Villa, dangerous from any range really" Alan: "Yeah I mean he'll try his luck from short or long distances and eh, not far out there"
"Goalkeeper might be needed again!"
"Wonderful interception!"
"Barcelona, with Pique on the ball"
"He had play it over the ball because the defender was all over him"
"Oh. Unlucky"
"Ah, he's slid in"
"They might be in here!"
"Somehow he's got out of the way of that, a sliding tackle"
"Excellent block!"
"And he bangs it away"
"It's hit the player - blocked it really, I guess"
"Iniesta almost went down, but managed to stay on his feet"
"Top save!"
"And he's away showing them a clear pair of heels!"
"Flag went up straightaway, referee blew, offside."
"That's away from the real point of danger then, but not for long I don't think"
"Players from both sides are going for the ball, it's loose!"
"Very good piece of blocking"
"Play building up nicely now"
"And it's in, the equaliser!"
"That's a terrific response - they come back straightaway, and we're level again"
"Whoa, what a response! An equaliser, straightaway, we're level again!"
"He's got there, and turned it over the bar"
"And the ball loose now"
"Stopping the pass getting through with a good sense of anticipation"
"Xavi looking to find a killer pass this time"
"Oh, the post, very close indeed!"
"Good goal and now they're a goal to the good!"
"Hits the crossbar!"
"And the defender to the rescue, after a promising piece of attacking play"
"And we'll start again with a goal kick"
"A terrific header and a tremendous save!" -Alan "He couldn't head it any better but the keeper was equal to it"
"He's through!"
"And this is the first penalty here, pressure on"
"And Joe Hart's kept it out, in great style!"
"And the ball is free here!"
"Dangerous!"
"He scored, with a brilliant header!"
"Oh, The break was on, and the breakaway has broken down"
"San Milano is the official today."
"What an important block that was!"
"The post, back into play!"
"Massive pressure on the penalty taker now in the circumstances."
"Safe hands from the keeper from that shot"
"Easy spot for the referee, hands"
"Kept it out, somehow!"
"The match on the line - if he fails to score, they lose it"
"It's loose now, in the box!"
"That was ambitious, but the ambition very nearly paid off!"
"And the ball's here to be won!"
"And eh, the block has been made"
"He's hold on to that, somehow."
"And it's gonna be a goal kick."
"And we're halfway through, and we haven't yet got a goal to bring to you - 0-0 at halftime"
"And the cross driven in!"
"Somehow he's saved it!"
"Sergey Piputkin is the man in charge of the game"
"Good punch by the keeper"
"That's a very, very good slide tackle in the circumstances."
"Not quite as we thought"
"Messi trying his luck from a long way, away"
"That's a marvelous defensive challenge"
"That's a wonderful chip into the back of the net!"
"Oh, that's a wonderful ball, can they finish it?!"
"Good fist by the keeper"
"And the bicycle kick has been saved here!"
"And the referee blows for handball"
"Oh, that's an amazing overhead kick!"
"Punched away by the goalkeeper"
"First shot - First goal! We're off and running here!"
"And the game will be restarted by a goal kick for Barcelona"
"They couldn't him and he's away!"
"Keeping the move going"
"That own goal - a crazy moment"
"Uh oh, Curse of the Commentator I'm afraid"
"Fantastic overhead kick goal!"
"Oh the ball is broken loose!"
"Another save - ball's still in play though!"
"Ingvar Tollefsen, the match referee"
"And it's in via the post!"
"He is a pass master"
"And they through!"
"It's all over, there is the final whistle"