2002 FIFA World Cup, sometimes known as FIFA World Cup 2002, is the second EA Sports official World Cup video game developed by EA Canada and Creations, with Intelligent Games assisting for PS2, Xbox, Windows, and Nintendo GameCube platform and Tose Software also assisting the GameCube version, the game was published by EA Sports in North America and Europe and published by Electronic Arts Victor in Japan.
An amalgamation between the game engines of FIFA Football 2002 and FIFA Football 2003, the game still incorporates the power bar for shots and crosses but with a steeper learning curve and customisation of the chances of being penalised by the match referee. Some kits are licensed, along with player likeness and the stadia of the 2002 FIFA World Cup. Unlike the previous games in the FIFA series, the game had an original soundtrack performed by the Vancouver Symphony Orchestra. It was released for Windows, PlayStation, PlayStation 2, GameCube, and Xbox. It was a launch title for GameCube in Europe.
Features
National teams
The game features each of the 32 teams that qualified for the 2002 FIFA World Cup, and 9 teams that did not qualify.
Qualified teams:
Argentina
Belgium
Brazil
Cameroon
China PR
Costa Rica
Croatia
Denmark
Ecuador
England
France

Germany
Italy
Japan
South Korea
Mexico
Nigeria
Paraguay
Poland
Portugal
Republic of Ireland
Russia

Saudi Arabia
Senegal
Slovenia
South Africa
Spain
Sweden
Tunisia
Turkey
United States
Uruguay
Teams that did not qualify:
Australia
Austria
Czech Republic
Finland
Greece
Israel
Norway
Scotland
Switzerland
Stadiums
The game features all the official stadiums from the 2002 FIFA World Cup.
International Stadium Yokohama
Seoul World Cup Stadium
Daegu World Cup Stadium
Saitama Stadium 2002
Busan Asiad Stadium
Sapporo Dome
Incheon Munhak Stadium
Shizuoka Ecopa Stadium
Nagai Stadium
Miyagi Stadium
Gwangju World Cup Stadium
Munsu Football Stadium
Suwon World Cup Stadium
Ōita Stadium
Jeonju World Cup Stadium
Niigata Stadium
Jeju World Cup Stadium
Kashima Soccer Stadium
Kobe Wing Stadium
Daejeon World Cup Stadium
Videos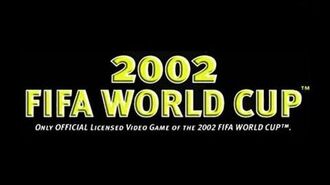 External links